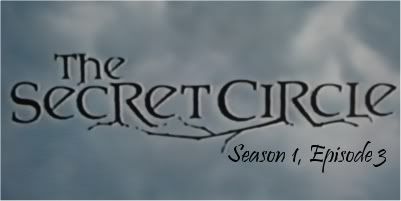 Hey all, Shannon here with a new episode run down for The Secret Circle, Episode #3. To refresh your memory these are spoiler filled from the perspective of seeing just the particular episode discussed, and the episodes prior to it. Any predictions will be made from watching this (and previous) episodes, and although I have read the books by L.J. Smith that the show was based on I'm tucking away those thoughts and sticking strictly with what they say and show us in the show. Episodes 1-8 are being done retrospectively of the mid-season break, therefore no predictions will be made.
Please watch the episode first before reading to save yourself from
SPOILERS for The Secret Circle: Episode #3.
And if you'd rather listen than read you can
listen to Suzie & I chat about this episode on Hexed Ep 77
!
Episode #3: Loner
Do you want to dance? The circle starts to use their powers together, as now they are limited to only being able to use them together, against Zackary Larson, old friend (or foe?) of Cassie's mom who is determined to not let it "all happen again". On the swoony front, Nick & Melissa's rocky relationship starts to even out but when Cassie takes up new-boy Luke on letting him take her to the dance, although he bails on her when she's an inattentive date.
General Comments
I'm not super believing that Cassie was a loner (why? - will there be any explanation?)
I loved that Luke called Cassie on being a crappy date
I loved that Faye stood up for Melissa to Nick, telling him that she likes him which actually encourages them to stay together-ish...

Locations/Social Events
N
ew Characters
Sally Matthews

– She's Back! Sally makes an impressive human return, although with her arm in a sling and no apparent memory of being push/killed by Faye and revived by Dawn

Luke –

new human who chats up Adam about Cassie, gets him to introduce them




Zackary Larson –

went to school with Amelia. He's a rough-ish looking adult guy who tells Cassie she looks just like her mother. He is hellbent on 'not telling it all happen again, and says he only has to kill 1 of the kids to stop it.
Character Development
Faye's birth date is 02 25 95
Through yearbook research, Cassie finds out that her mom was friends with both Zackary and a woman called Heather Barnes

Relationships
Melissa & Nick hooked up – looks like for the first time and she wants to keep it quiet
Adam plays the 'adults' Ethan on playing nice with Charles
Ethan (Adam's Dad) talks more about Amelia (Cassie's Mom) Says that there was an attraction between them that was impossible to ignore, like he would light up in side
Diana asks Adam if she has anything to worry about with him & Cassie and he doesn't say no but they both say they love each other
Charles lies to Diana and says he & Dawn are dating

Witch Actions - Teens
Appears that their individual powers are gone
Cassie & Diana push Zackary away
Melissa & Faye work together to move phone
"Air around me, grant me fire" - Faye tries this spell – doesn't work
When Zackary attacks Cassie the 5 throw him around the hallway (although looks like might just be Adam and Diana)
When Zackary bugs Cassie, Diana appears and he moves away. Diana says it's like they shared the same thought and it happened
Witch Lore & Actions – Adults
Charles goes to talk to Zackary, dismisses the witchcraft as rumours
Zackary says Amelia told him everything, but that the deeper she got in with 'all of you' the more she pushed him and Heather away
Heather never stopped believing in Amelia
Zackary says now that Cassie is back it will all happen again, genuinely surprized that Charles isn't doing anything to stop them
Zackary goes to fight Charles
Dawn cuts her hand and puts it on Zackary's head, and says words to mark him and says if he does near any of their children again she'll make his like a literal living hell
Witch Lore & Actions – Elders
Arc
Zackary says he only has to kill 1 of them to break the circle and keeps referring to not letting it all happen again
Inference that Cassie being there is what will make history repeat

Reveals
High school photo shows Amelia Blake – and that means Blake is (likely) Cassie's Mom's maiden name, which means we don't know her fathers name.
Zackary says Heather didn't die but what Amelia did to her was far worse (they think he is avenging dead friend Heather)
Great Quotes
"Maybe there is trouble in paradise and it's time to let those eyes wander" - Sally re: Luke
"I'm not sharing my thoughts with anyone, especially Diana who keeps all the rules to herself" – Faye
"You mother was a hard act to follow" – Charles to Diana re: Dawn
"Just because we are witches doesn't mean we can't go to dances / No, we don't go to dances because we aren't lame" – Melissa / Dawn
I don't mind being alone. Unlike you Melissa, I like myself – Faye
"Just talk. We can't kill everybody that gets in our way" Dawn to Charles
"We lost one, he lost both. He's double damaged" – Faye re: Nick
"I just think we are better together than we are apart, power or no power" – Diana to Cassie

Questions/Predictions *
Keeping an eye on
*
Left off at
Dawn marks & threatens Zackary to stay away from their children
Keeping Tabs On....
Family Trees -
nothing new
Blake's: Cassie / Amelia (confirmed dead) + _______ (Cassie's father is dead) / Jane
Meade's: Diana / Charles + ______ (Diana's mother is assumed dead)
Chamberlain's: Faye / Dawn + _____ (Faye's father is dead); Henry (dead)
Conant': Adam, Ethan + ______ (Adam's mother - assumed dead)
_______'s: Melissa's family: ________ + _______
_______'s: Nick's Family: both parents are said to be dead
Family Book of Shadows Found (2 out of 6) as of Episode 3
- nothing new
Diana found her family's book first
Cassie found her family's book at the end of Episode 1

Kill / Saves Tally (3 / 2) :
Nothing new, but more support that Dawn killed Henry at the end of episode 2
Kills (3):
Charles: 1 (Amelia, Ep 1)
Faye: 1-ish (Sally, Ep 2)
Dawn: 1 (Henry, strongly inferred that she killed him Ep 2)

Saves (2):
Adam: 1 (Cassie, Ep 1)
Dawn: 1 (Sally - with crystal, Ep 2)
* Episode 1-8 run downs are being done retrospectively, therefore I'm omitting predictions because hindsight can (appear) to be 20/20!
And remember you can also listen
to Suzie & I chat about this episode on Hexed Podcast #77
.