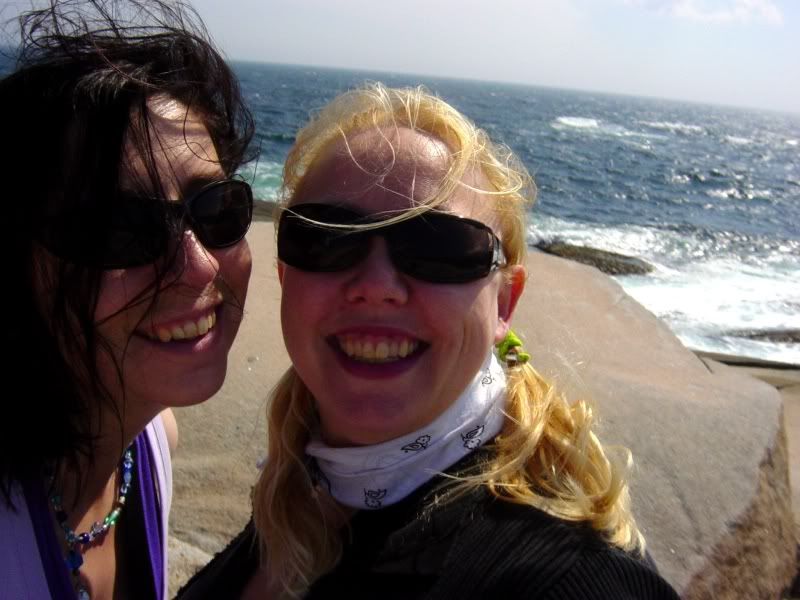 Above: Suzie & Shannon at Peggy's Cove, Nova Scotia
Subscribe to
Hexed: Sisterhood of the Supernatural Podcast here
Hexed: Sisterhood of the Supernatural is a weekly paranormal TV podcast hosted by sisters Suzie and Shannon Ridler, in Canada (Nova Scotia and Toronto - respectively).
Hexed Started in January 2010 when Shannon asked her sister Suzie if she wanted to do a paranormal TV podcast together, and she said yes! We have been watching paranormal TV together since the Buffy days and, since we love to chat with each, other we decided to share it with the world through this podcast. You can hear us chat and laugh our way through the shows as we share our crazy theories, point out inconsistencies (we are analytical, we can't help it!) and make predictions for the future. We are one of the few podcasts that actually talks about both fiction and non-fiction paranormal shows and we'll also chime in one our own thoughts of the paranormal as they come up. We never watch trailers, spoilers or look ahead to future episodes so all predictions are right from our own minds.
The shows we regularly chat about include:
Supernatural, Vampire Diaries, Haven, Lost Girl, Fact or Faked: Paranormal Files, Ghost Mine, Teen Wolf, Grimm, Continuum, The Almighty Johnsons, The Walking Dead, Face Off, Paranormal Witness and Being Human (both the UK and North American versions). See more about the
shows we always talk about here
.
There are also many shows we talk about and check in on occasionally (see
list and more about them here
) as well as the shows that we talked about but are no longer with us (see
list here
).
We're in Canada so our podcasts and posts will align to Canadian broadcasting schedule when the shows play on
Space
,
Showcase
,
CTV
,
MuchMusic
,
CHCH
,
HBO Canada
,
The Movie Network
,
CityTV
as well as
FOX
and
AMC
.
You can contact us
by email

SUBSCRIBE to HEXED here:

Subscribe in a reader

New Feed Updated as of September 2012