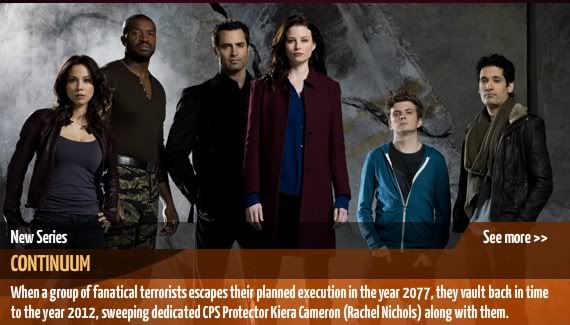 Image: Cast Picture for Continuum
It's officially the turning of the tide from the fall/winter season and heading straight on through to summer, and with such we have the first premiere for a summer show coming at us this Sunday giving us our
Paranormal Pick of the Week
:
Continuum
- 2-Hour Series Premiere
Sunday May 27, 2012 at 9pm ET/PT
on
Showcase
Continuum
is a Canadian science-fiction series and here is handy-dandy
description
is you ned a memory jogger: "A detective from the year 2077 who finds herself trapped in present day Vancouver, and searching for ruthless criminals from the future." The series stars Rachel Nichols, Victor Webster, Erik Knudsen as well as Stephen Lobo, Roger Cross, Lexa Doig, Omari Newton, Luvia Petersen and Terry Chen.
The first season starts this week on Sunday May 27, 2012 with a 2-hour premiere which starts it's 10-episode run. See more about Continuum at the shows
official website
,
IMDb Page
and
Wikipedia Page
.
I'm really looking forward to the series and I think Suzie & I will be chatting about it on
upcoming episodes of Hexed
!
Also Awesome This Week:
It's a quite week with most shows having their finales already but we do have a new episode of Fact or Faked: Paranormal Files on Wednesday Night at 10pm EST on Space. I've really been enjoying season 2C/3 and look forward to the show each and every week.