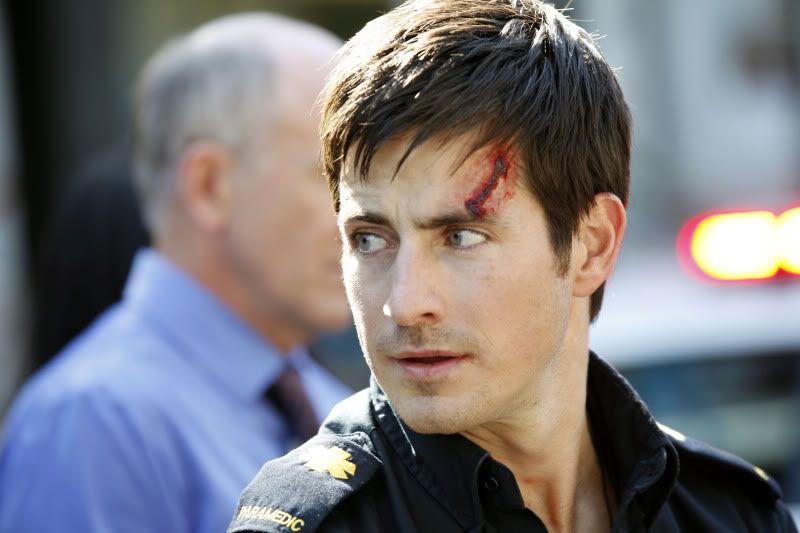 Image from The Listener 'The Bank Job SEASON PREMIERE airs Wednesday, May 30 at 10 p.m. ET/PT on CTV
The Listener returns with Season 3
, premiering on May 30, 2012 at 10PM ET/PT on CTV.
It's time for the telepathic paramedic Toby to return to TV, although it looks like in season 3 he is shying away from both of those descriptors. Interesting choice. I wonder how it will all play out.
Here are the details from the
media release
:
"THE LISTENER – Wednesdays at 10 p.m. ET/PT on CTV beginning May 30
In the highly-anticipated third season of CTV's hit Original Series THE LISTENER, Toby Logan (Craig Olejnik, The Timekeeper) decides to ignore his telepathic abilities and live a normal life. Choosing to step away from his role as a paramedic to work more closely with the Integrated Investigative Bureau (IIB) and Sgt. Michelle McCluskey (Gemini Award-nominee Lauren Lee Smith, CSI), he puts undue pressure on himself to prove to his peers that he belongs. While his new consultant role means curtailing some of his EMS duties, the critical care team remains the emotional heart of his complicated life. This is especially true when Toby's best friend and paramedic partner, Oz (Ennis Esmer, THE L.A. COMPLEX), moves into the apartment next door and tries to work up the courage to make a commitment to St. Luke Hospital triage nurse Sandy (Tara Spencer-Nairn, CORNER GAS)."
Although we are enthusiastic about this Canadian paranormal drama the odd/erratic scheduling and very procedural structure made Shannon bow out on this one the last time she tried watching it. Maybe in Season 3 she'll see the light! See all
podcasts and posts where we've discussed The Listener here
.
Update:
Good news if people watch to catch up on Season 1 & 2; or watch Season 3 online after it airs. Here's the details from the
media release about watching the show online
: "New episodes of THE LISTENER are available on demand the day following their television broadcast on the
CTV Video Player
. Viewers can get the latest news, play the
THE LISTENER's Vision Buster game
, or catch up on episodes from Seasons 1 and 2 on the series web portal at
TheListener.CTV.ca
. Fans can also visit THE LISTENER's
Facebook page
and follow on Twitter (
@listenertv
) for show updates and exclusive behind-the-scenes videos from series stars Ennis Esmer (Oz Bey) and Rainbow Sun Francks (Dev Clark)."