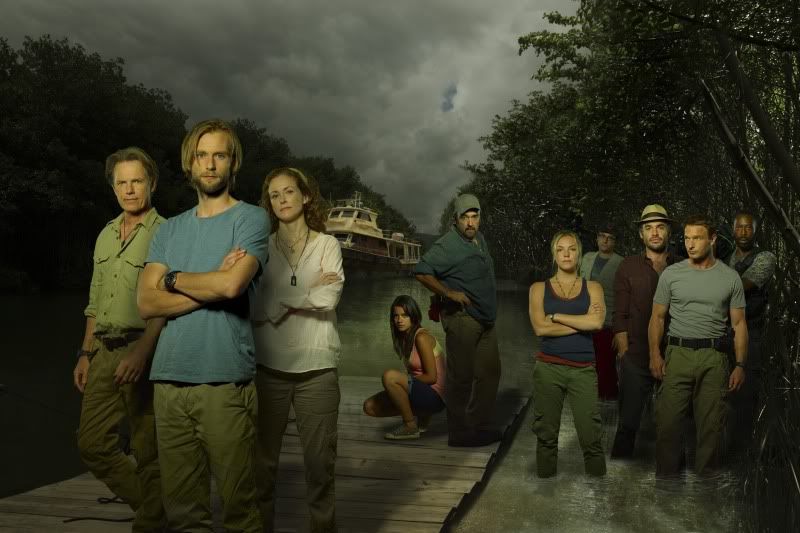 Image - Cast of The River: Bruce Greenwood as Emmet Cole, Joe Anderson as Lincoln Cole, Paul Blackthorne as Clark, Paulina Gaitan as Jahel, Leslie Hope as Tess Cole, Eloise Mumford as Lena, Shaun Parkes as Adjay, Thomas Kretschmann as Captain Kurt Brynion and Daniel Zacapa as Emilio.
Suzie & I have chatted excitedly about the
trailer of the upcoming TV show

The River
from
Paranormal Activity
director Oren Peli, and now the time is upon us to see if it's as good as it looks with the series starting this Tuesday. It certainly appears to have a spooky vibe, shakycam style, and sure to have emotional connect as it follows family members trying to find each other. Plus, we are still hyped and hoping that it will be paranormal in nature. Not too much longer before we know for sure!
The River
series premieres this Tuesday, Feb. 7, 2012 on
CTV
at 9 p.m.

The Walking Dead


AMC
's hit zombie series comes back with new season 2 episodes this Sunday February 12, 2012 and is it just me or did that hiatus seem *way* too long? We've both had strong feelings in both directions on this on, although Suzie has decided she likes the show and Shannon is swaying back in that direction as well especially after the mid-season finale for season 2. I'm sure they swing back into things with a timely Valentine's episode! Perhaps not. But, there could be arrows to the heart, crossbow arrows that is.
More happy news for
The Walking Dead
is that it's season 3 is not only in the works but it's also going to be
a whopping 16 episodes
, in comparison to season 1 which had 6 eps and season 2 which will air 13 episodes.
If you need to catch up on the season or the series? You are in luck,
AMC
is re-airing both season 1 in it's entirety as well as season 2 so far:
Season 1: Saturday February 11, 2012 starting at 8PM EST
Season 2: Sunday February 12, 2012 starting at 1:30 PM EST with new episode at 9PM EST
See all
podcasts and posts where we've discussed The Walking Dead here
.