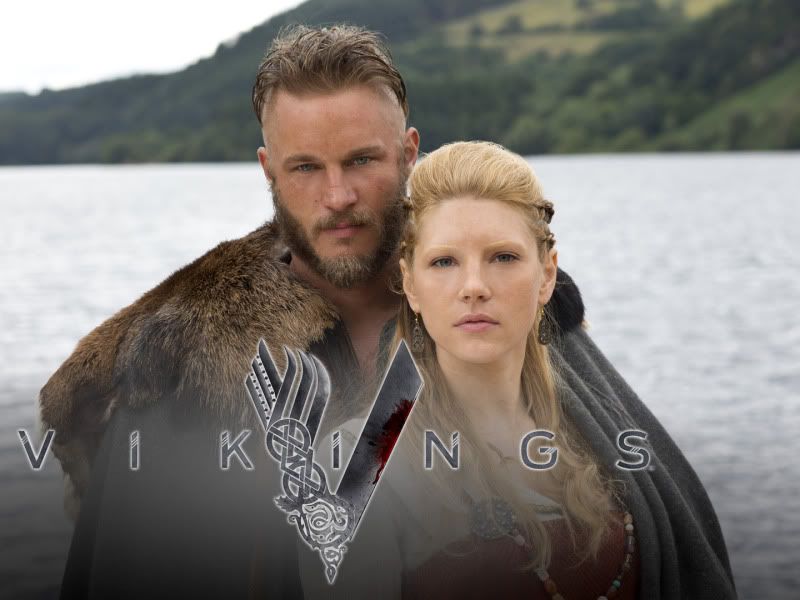 Image Source
March brings us 3 new series and 3+ returning series, which I think is quite fitting for the third month of the year, and almost all are going crazy with the 3's in there start dates:
Vikings
(03.03.13),
Game of Thrones
Season 3 (03.03.13) and both
Orphan Black
and
Doctor Who
start on 03.30.13! This month also has us seeing the debut of
The Bates Motel
, a prequel series to Psycho (anyone who hasn't see Psycho be care of the series description below). Last up, but certainly not least is the highly anticipated return of
Grimm
and it's been *way* too long since we've had new episodes I can't wait to see a new ep!
I'm very amazed we have such an amazing array of shows to enjoy this month, I don't know about you but my schedule is getting extremely full of awesome TV.
~~~~~~~~~~~~~~~~~~~~~~~~~~~~~~~~~~~~~~~~~~~~~~~~~~~~~~~~~~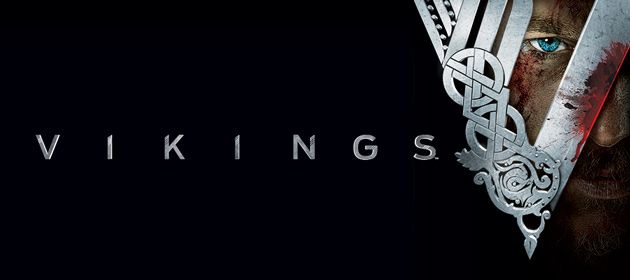 Vikings ~ Series Premiere
Sunday March 3, 2013 on
History
Genre: Historical/Action
Cast: Travis Fimmel, Katheryn Winnick, George Blagden, Jessalyn Gilsig, Clive Stranden, Katheryn Winnick and Gabriel Byrne
Here is the
series premise
: "Viking Ragnar Lothbrok is a young farmer and family man who is frustrated by the policies of Earl Haraldson, his local chieftain who sends his Viking raiders east to the Baltic states and Russia, whose residents are as poor as the Norsemen. Ragnar wants to head west, across the ocean, to discover new civilizations. With assistance from his friend, Floki, Ragnar builds a faster, sleeker, fleet of boats to help him make it to the western world. Through the years Ragnar, who claims to be a direct descendant of the god Odin, continues to struggle with Earl until the two face each other in a final battle for supremacy."
See more about Vikings at
History.ca
and
History.com
~~~~~~~~~~~~~~~~~~~~~~~~~~~~~~~~~~~~~~~~~~~~~~~~~~~~~~~~~~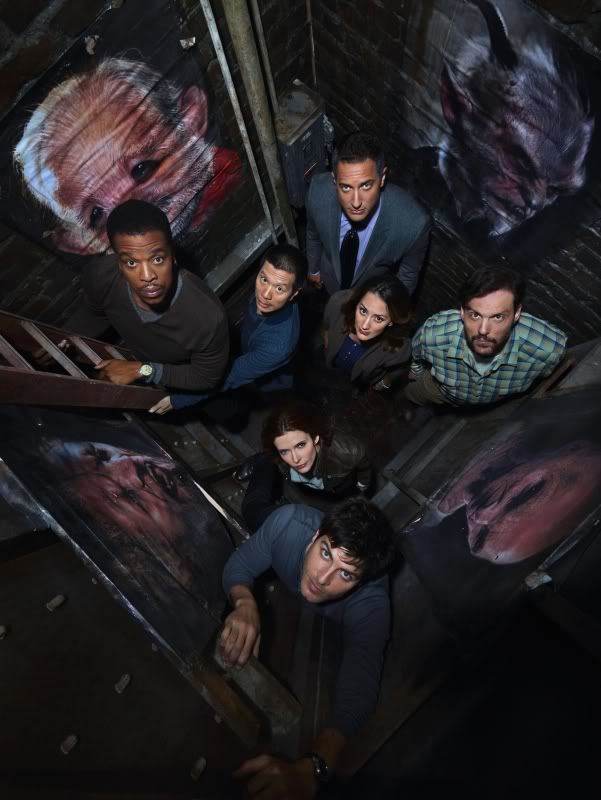 Grimm - Season 2 Returns
Friday March 8, 2013 on
CTV
~and~
Sunday March 10, 2013 on
Space
Genre: Paranormal/Fantasy
If you are unfamiliar with this fantastic series, here is a
description
: "Nick Burkhardt thought he prepared himself for the realities of working as a homicide detective until he started seeing things he couldn't quite explain.
When his ailing Aunt Marie arrives, Nick's life turns upside down when she reveals they are descendants of an elite group of hunters, also known as "Grimms," who fight to keep the balance of humanity safe from the supernatural creatures of the world.
As Nick digs deeper into her past, he realizes that he will have to shoulder the responsibility of his ancestors and contend with a larger-than-life mythology of the Brothers Grimm that is now all too real."
See more about Grimm at
CTV
.
~~~~~~~~~~~~~~~~~~~~~~~~~~~~~~~~~~~~~~~~~~~~~~~~~~~~~~~~~~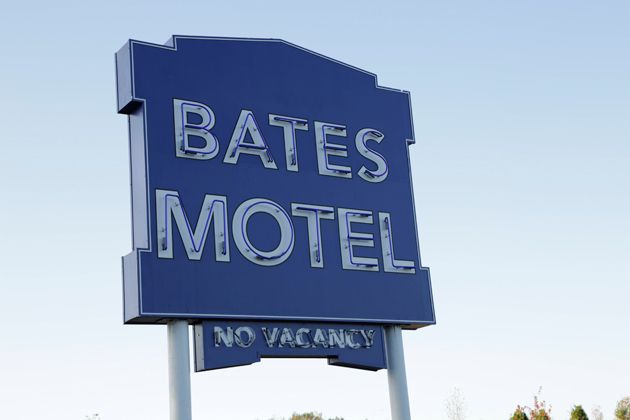 Bates Motel ~ Series Premiere
Monday March 18, 2013 on
A and E
Genre: Horror/Thriller
**description includes spoilers for the film Psycho**

Description
: '"Bates Motel," serves as a contemporary prequel to the genre-defining film, "Psycho," and promises to give viewers an intimate portrayal of how Norman Bates' psyche unravels through his teenage years.
Fans will have access to the dark, twisted backstory and learn first hand just how deeply intricate his relationship with his mother, Norma, truly is and how she helped forge the most famous serial killer of them all.
"Bates Motel" is produced by Universal Television for A&E Network. Carlton Cuse ("Lost") and Kerry Ehrin ("Friday Night Lights") serve as executive producers for Carlton Cuse Productions.'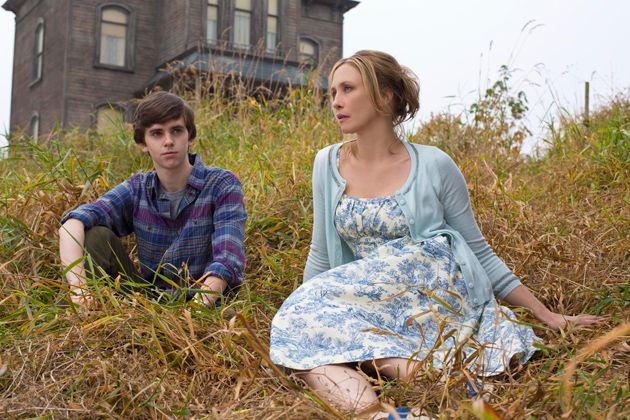 Bates Motel Stars: Freddie Highmore, Vera Farmiga, Mike Vogel, Nestor Carbonell, Max Theiriot, Keegan Connor Tracy, Nicola Peltz and Olivia Cooke.
See more at the
Bates Motel website
~~~~~~~~~~~~~~~~~~~~~~~~~~~~~~~~~~~~~~~~~~~~~~~~~~~~~~~~~~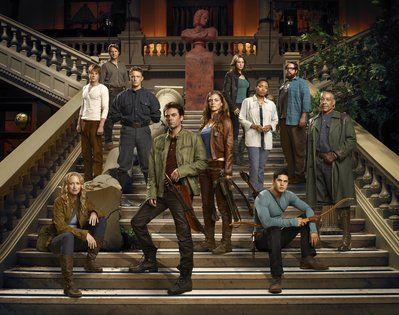 Revolution ~ Season 1 Returns
Monday March 25, 2013 on
CityTV
Genre: Science Fiction/Post Apocalyptic
This one didn't quite stick with me but I know the ratings have held very strong in the post apocalyptic/flashback heavy action/revolutionary series starring Tracy Spiridakos, Billy Burke and Giancarlo Esposito. It's not too long to wait for new episodes which return this month.
See
more about Revolution at CityTV.com
~~~~~~~~~~~~~~~~~~~~~~~~~~~~~~~~~~~~~~~~~~~~~~~~~~~~~~~~~~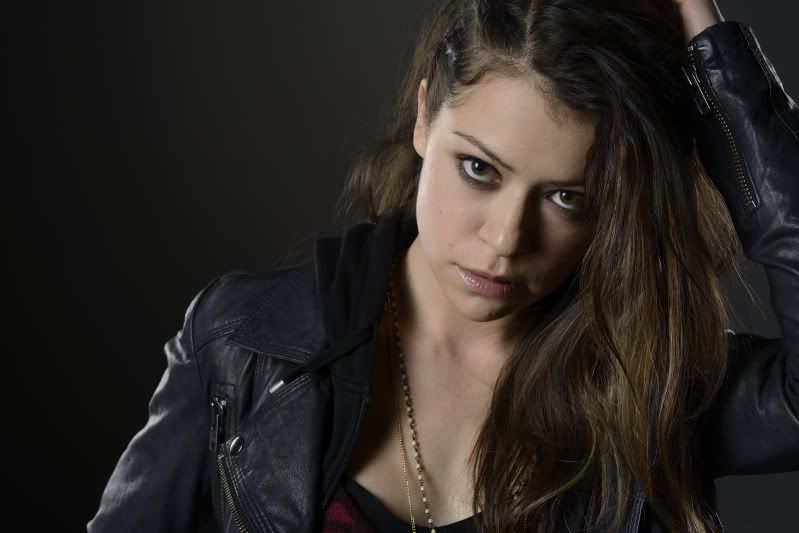 Orphan Black ~ Series Premiere
Saturday March 30, 2013 at 9pm ET on
Space
Genre: Science Fiction
We've been
keeping tabs
on Orphan Black since the series since it was
first announced in fall 2012
, as it has a fascinating premise and awesome casting made it a perfect selection to chat about there at
Hexed
. Here is the scoop on the show from a
media release
:
"What happens when one day you realize you're not alone, and there are people out there who look just like you? SPACE announced today that its highly anticipated new Original Series ORPHAN BLACK will premiere Saturday, March 30 at 9 p.m. ET, following the return of SPACE's #1 series, and fan favourite, DOCTOR WHO at 8 p.m. ET. Produced by Temple Street Productions for SPACE and BBC America, the gripping new 10 episode drama ORPHAN BLACK stars Tatiana Maslany (Cas & Dylan, Picture Day) in the lead role of Sarah, an outsider and orphan whose life changes dramatically after witnessing the suicide of a woman who looks just like her. Sarah assumes the dead woman's identity, her boyfriend, and her bank account. But instead of solving all her problems, the street smart chameleon is thrust headlong into a kaleidoscopic mystery. Sarah makes the dizzying discovery that she and Beth, the dead woman, are clones…but are they the only ones? Sarah quickly finds herself caught in the middle of a deadly conspiracy, racing to find answers."
See more about
Orphan Black at Space
.
~~~~~~~~~~~~~~~~~~~~~~~~~~~~~~~~~~~~~~~~~~~~~~~~~~~~~~~~~~
Doctor Who ~ Season 7 Returns
Saturday March 30, 2013 on
Space
Genre: Science Fiction
Doctor Who
returns with 8 episodes to round out Season 7 on Space
, and it looks like the show has a few suprizes in store!
Here are
more details on the return of Doctor Who
: "The Doctor is back in a fantastic adventure written by the show's lead writer and executive producer, Steven Moffat. The episode - the first in a run of 8 - is directed by Colm McCarthy whose previous credits include Hustle, Spooks and Endeavour.
Later adventures in the run include episodes written by Mark Gatiss (Victory of the Daleks, Night Terrors) and Neil Gaiman.
Steven Moffat has promised us that in terms of Doctor Who, 2013 will be a 'tremendous' year and we'll be bringing you more about the forthcoming adventures soon. But if you can't wait for the TARDIS to return on 30 March, you can take a brief look now at what's in store for the Doctor, Clara and some familiar friends… and foes!"
See more about
Doctor Who at Space
.
~~~~~~~~~~~~~~~~~~~~~~~~~~~~~~~~~~~~~~~~~~~~~~~~~~~~~~~~~~
Game of Thrones ~ Seaseon 3 Premiere
Sunday March 31, 2013 on
HBO Canada
Genre: Fantasy
Description
: "Based on the bestselling book series by George R.R. Martin, Game of Thrones is an epic drama set in the grounded fantasy continent of Westeros, where ambitious men and women of both honor and ill-repute live in a land where summers and winters can last years. Season 2 is based on Martin's second novel in the series, "A Clash of Kings," and plays out against the backdrop of a fast-approaching winter – the season of the white raven. In Kings Landing, the coveted Iron Throne is occupied by cruel young Joffrey, counseled by his conniving mother Cersei and uncle Tyrion, who has been appointed Hand of the King. But the Lannister hold on the Throne is under assault on many fronts. There's Robb Stark, son of the slain Lord of Winterfell Ned Stark, who seeks autonomy in the north and has taken Cersei's brother Jaime prisoner in battle; Daenerys Targaryen, looking to shore up her depleted power in the east through three newborn dragons; Stannis Baratheon, brother of the late king Robert, who rejects Joffrey's legitimacy and aligns with a powerful priestess to raise a naval attack; Stannis' brother Renly, who has maintained his own claim since fleeing Kings Landing; and Theon Greyjoy, who was raised by the Starks, but whose blood ties in his native Iron Islands runs deep. In the meantime, a new leader is rising among the wildings outside the Wall, adding new perils for Jon Snow and the order of the Night's Watch. With tensions and treaties, animosity and alliances, Season 2 of Game of Thrones promises to be a thrilling journey through a riveting, unforgettable fictional landscape."
See more about
Game of Thrones at HBO Canada
.
~~~~~~~~~~~~~~~~~~~~~~~~~~~~~~~~~~~~~~~~~~~~~~~~~~~~~~~~~~