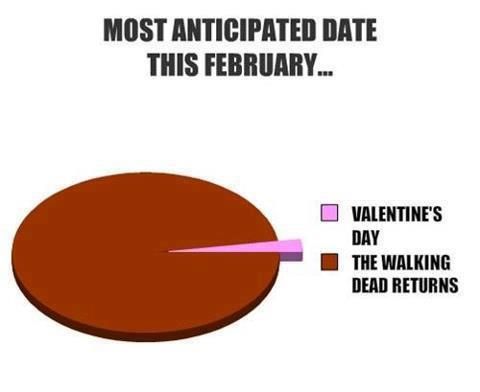 Image Source
I know it's still 6 days away but since it's already felt like the longest hiatus ever, why not start the countdown to the returns of Season 3 of The Walking Dead? I'm psyched to see how they will continue from the crazy mid-season finale back in early December. If it can complete with a chocolate-covered holiday, it was clearly the pick for this weeks
Paranormal Pick of the Week
:

The Walking Dead - Season 3 Returns
Sunday February 10, 2013 on
AMC Canada
We occasionally check in on this one on the podcast, but have been pretty actively talking about it through Season 3. If you need to catch up, or want to revisit, Season 3
AMC Canada will be re-airing the first 8 episode of season 3
starting just before 1pm EST (
check your local listings
for times). See all Hexed
podcasts and posts where we've discussed The Walking Dead here
.
See more about
The Walking Dead on AMC here
.
Also Awesome
Space is airing tons of fun movies on the weekend including Camel Spiders on Saturday February 9, 2013 at 10:15pm; here's the description: "Soldiers escape a deadly attack but accidently transport several camel spiders with them to the American southwest. An Army Captain (Brian Krause, CASTLE), a small-town Sheriff (C. Thomas Howell, SOUTHLAND), and a desperate group of locals and tourists must survive a frightening infestation of crawling carnage." It's a lot of fun, I was particularly impressed with the how entertaining C. Thomas Howell is in the film.
If you like monsters, keep watching Space after Camel Spiders as they are airing three of my favourites: Sharktopus (12:15 AM EST), Mega Piranha (2:10 AM EST) and Mega Python vs. Gatoroid (4:05 AM EST) in the wee hours of Saturday night February 9, 2013. They are all extremely entertaining, I've watched all of them repeatedly because they crack me up so much. Chatting about them is particular fun and I got to co-host on the Saturday B-Movie Reel over at Tuning into SciFi TV to chat Sharktopus with Kevin Bachelder and Paul Logan of Mega Piranha was noted on a recent episode of Before the Dawn; you can check out 'Shannon's List' in the show notes/slideshow to see why.