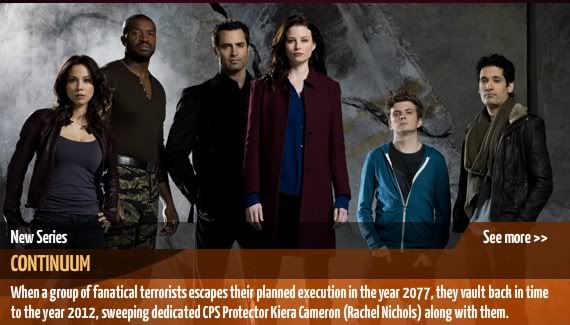 Image: Cast Picture for Continuum
The new science fiction series
Continuum
has had more teaser trailers kicking about (I saw them during the Lost Girl finale), and they do say 'coming soon' and 'spring 2012' but I think I saw one that said May as well *. Details are still sparse but there is this
description
"A detective from the year 2077 who finds herself trapped in present day Vancouver, and searching for ruthless criminals from the future." and
it will star
Rachel Nichols, Victor Webster, Erik Knudsen as well as Stephen Lobo, Roger Cross, Lexa Doig, Omari Newton, Luvia Petersen and Terry Chen.
So, want to take a look? There is
this trailer which features the series protagonist
(sadly not embedible) as well as this trailer:
And this super-short teaser:
* Update - although there isn't tons kicking around online yet, I did find images here at
Spoiler TV
, which also indicates it
Premieres May 13, 2012
.
And for the geo-blocked US folks, you
can see one of the trailers here
.
I'll be looking forward to seeing & sharing more about Continuum.