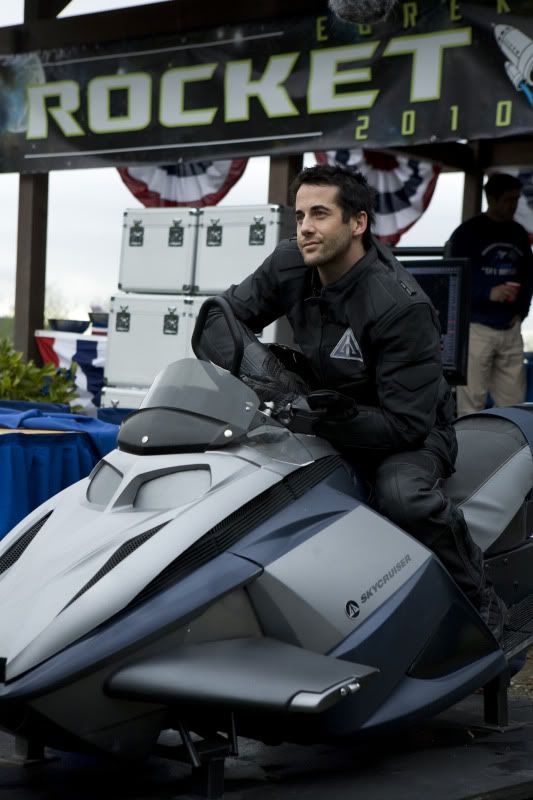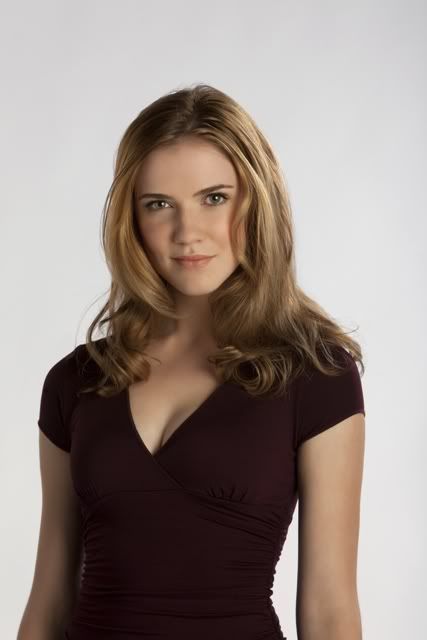 Images: Niall Matter as Zane Donovan in Eureka / Sara Canning as Jenna on The Vampire Diaries
We've got some news about the new Canadian show
Primeval New World
, a spin off of the UK Primeval. The show has started production and I'm very excited to share cast & crew news.
Primeval New World
will star:
Niall Matter

as Evan Cross and enterprising inventor and visionary hero. Niall Matter is new to me but he played Zane Donovan on Eureka (pictured above), Greg on the new and Rick on the new Melrose Place

Sara Canning

as Dylan Weir, predator attack expert and specialist in animal behavior. Hexed listeners will certainly know Sara Canning as she played Aunt Jenna from The Vampire Diaries (pictured above) and recently guest starred on Supernatural Season 7 Episode 13.

Miranda Frigon

as Ange Finch

Geoff Gustafson

as Ken Leeds

Danny Rahim

as Mac Rendell

Andrew-Lee Potts

will guest star as Connor from the original series

Amanda Tapping, Andy Mikita, Martin Wood and Mike Roh are all lined up to direct
Primeval New World
. I've been watching lots of Sanctuary & Stargate SG-1 so some of those are very familiar names!
It's quite serendipitous for this information to come out as Suzie & I chatted about the show on
last weeks episode of Hexed
and included it in our
2012 Paranormal-Inclined 2012 TV Pilots
, even though it's more than a pilot - it's confirmed for 13 episodes, one hour series.
It's still early days but the show does have an
IMDb Page
, information on it is scarce for the moment but with casting & crew details being revealed I'm sure it will start to build up. I'll keep my eye out for more resources as time goes on. I for one can't wait to see some pictures from the show itself.
Need more info? Check out
the official media release
:
"Vancouver, BC (March 7, 2012) – SPACE announced today that production is underway on the original mythological/action series PRIMEVAL: NEW WORLD. Set in Vancouver against the backdrop of the Pacific Northwest, the 13-episode, one-hour series is produced in association with Omni Film Productions (DEFYING GRAVITY, ARCTIC AIR). Also announced today is the stellar cast and crew for the new series, featuring top Canadian talent from hit SPACE programming such as SANCTUARY, STARGATE UNIVERSE, EUREKA, SUPERNATURAL and SMALLVILLE.
A North American spin-off of the hit U.K. television series, PRIMEVAL: NEW WORLD follows a specialized team of animal experts and scientists that investigates the appearance of temporal anomalies and battles both prehistoric and futuristic creatures. The cast features a bevy of established genre heavyweights such as Niall Matter (EUREKA, 90210, MELROSE PLACE) as the enterprising inventor and visionary hero Evan Cross, and Sara Canning (SUPERNATURAL, THE VAMPIRE DIARIES, SMALLVILLE) as Dylan Weir, predator attack expert and specialist in animal behavior. PRIMEVAL: NEW WORLD will also star Miranda Frigon (HEARTLAND) as Ange Finch, Geoff Gustafson (Hot Tub Time Machine) as Ken Leeds and Danny Rahim (EAST ENDERS) as Mac Rendell and guest starring Andrew-Lee Potts (PRIMEVAL) as Connor from the original series. Sci-fi queen Amanda Tapping (SANCTUARY), Andy Mikita (STARGATE UNIVERSE), Martin Wood (SANCTUARY) and Mike Rohl (SMALLVILLE) are all set to direct.
"SPACE is delighted to begin production on an exceptional homegrown series that is a counterpart to one of our channel's most successful shows," said Corrie Coe, Senior Vice-President, Independent Production, Bell Media. "We are thrilled to work with Omni Film and, with the support of Impossible Pictures, we know it will both capture the essence of the original U.K. series and bring a unique sensibility to the screen. Both existing fans of the PRIMEVAL brand and the SPACE audience alike are sure to be excited by the imminent crossover from the original series into the NEW WORLD."
"This is the dream team for a series such as PRIMEVAL: NEW WORLD," said Gabriela Schonbach, EP and Partner, Omni Film Productions. "Vancouver is the creative hub of visual effects for television, and we are the beneficiaries of a huge pool of talent in every area of TV production. This will be a terrific expansion to the PRIMEVAL world."
"Omni Film have done a phenomenal job in bringing this series to life and we're thrilled that they're producing the spin-off. The stories are fantastic and Atmosphere's work on the CGI is going to astound audiences around the globe," said Katie Newman, Executive Producer for Impossible Pictures.
Based on the original series produced by Impossible Pictures, PRIMEVAL: NEW WORLD 's creative team is led by Executive Producers Martin Wood (SANCTUARY, STARGATE: ATLANTIS) and Gillian Horvath (SANCTUARY, HIGHLANDER). The spin-off was created by Judith and Garfield Reeves-Stevens (STAR TREK: ENTERPRISE, SIR ARTHUR CONAN DOYLE'S THE LOST WORLD) and will be written by Gillian Horvath, Peter Hume (CHARMED, FLASH GORDON), Jon Cooksey (THE COLLECTOR, THE OUTER LIMITS), Sarah Dodd (FLASHPOINT, ARCTIC AIR), Katherine Collins (ENDGAME), and Judith and Garfield Reeve-Stevens. The creatures will be created by three time Emmy® Award-nominated visual effects company Atmosphere (STARGATE, SMALLVILLE, PSYCH). Leading international entertainment company, Entertainment One, holds the international distribution rights. Rebecca DiPasquale is Production Executive for Bell Media. Corrie Coe is Senior Vice-President, Independent Production, Bell Media. Catherine McLeod is Vice-President, Specialty Channels, Bell Media. Sally Basmajian is Vice President & General Manager, Comedy and Drama, Bell Media. Phil King is President, CTV Programming and Sports."