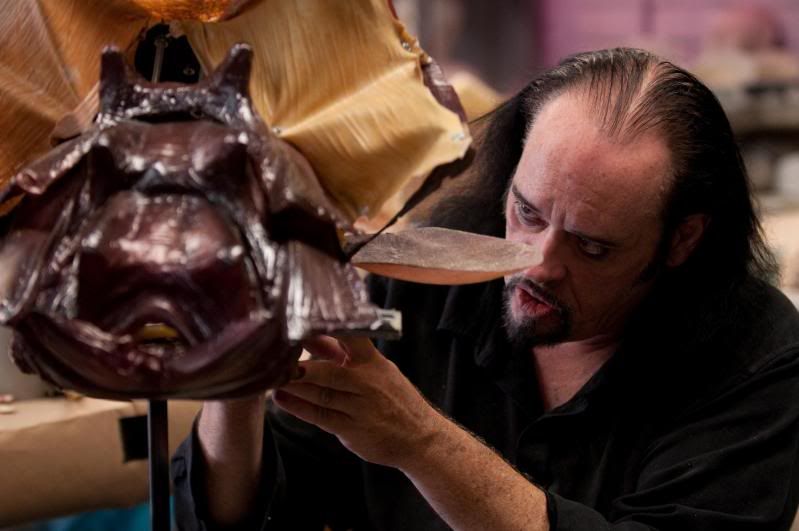 Monster Man
debuts on
Space
tonight at 11pm EST! It's a documentary series following creature prop expert Cleve Hall, and this first episode airs right after the Face Off season 2 finale which is a great pairing and I know I'm going to check it out.
Check out more details from the
media release
:
"Toronto, ON (March 9, 2012) – Monster-making-movie-magic comes alive when the documentary series MONSTER MAN debuts Wednesday, March 14 at 11 p.m. ET, immediately following the second season finale of FACE OFF at 10 p.m. ET on SPACE and SPACE HD. Starring hearse-driving, creature prop expert Cleve Hall, MONSTER MAN goes behind the scenes of one of Hollywood's most respected practical effects workshops, SOTA FX, to witness the creation of bizarre beings and out-of-this world aliens. Following the series debut, MONSTER MAN moves to its regular timeslot, Wednesdays at 10 p.m. ET, beginning March 21.
Alongside Cleve are daughters Constance and Elora Hall, ex-wife Sonja Maddox-Hall, best friends Roy Knyrim and Johnny Saiko and office manager Cindy Miller. Only the horrifying monsters they build match the craziness of this extremely talented family. For more than 30 years, when studios want a bizarre creature or out-of-this world alien, they turn to Cleve Hall and team. Full episodes of MONSTER MAN madness are available following the television broadcast at spacecast.com.
**Media Note** - Photography for MONSTER MAN available online at www.bellmediapr.ca/space.
Viewers can also check out Cleve's horror handiwork in action with the SPACE movie premiere of 2-HEADED SHARK ATTACK, coming later this spring.
The premiere episode of MONSTER MAN, "Seeing Double," introduces the very colourful cast of characters from SOTA FX, as Cleve and the team face a dual challenge. Famed Friday the 13th director Sean Cunningham demands that Cleve and company conjure up a set of conjoined twins that tear apart for his next feature film. If building this complex appliance for an A-lister isn't enough, creature feature makers at famed The Asylum film studio ask Cleve to build a terrorizing two-headed shark. To find inspiration Clive literally swims in shark-infested waters.
Monster-specialist Cleve Hall has been in the prop design game since he was a teenager. Hall has created masterpieces for countless big budget flicks for Paramount Pictures, DreamWorks, Warner Bros and Disney, including favorites How to Train Your Dragon, Sharktopus, Ed Wood and Pee Wee's Big Adventure. Hall has also lent his talent to numerous television programs including YO GABBA GABBA, for which he received an Emmy® Award-nomination. Additionally, he has worked with rock bands including KISS, creating Gene Simmons' Demon Armor, Insane Clown Posse, Alice Cooper, Tenacious D and DEVO.
Executive Producers are Scott Gurney and Deirdre Gurney for Gurney Productions."
Monster Man
debuts on
Space
of Wednesday March 14, 2012 at 11PM EST & then will air Wednesday at 10pm EST.