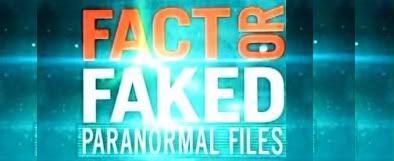 Great news for Canadian Fact or Faked: Paranormal Files fans.
Season 2C of Fact or Faked Paranormal Files is coming to Space
starting Wednesday April 25, 2012! This means we are very closely aligned to the US air date as it returns to SyFy on Tuesday April 17, 2012. Although it's a week apart, it's a huge improvement over the months that we've had to wait in the past, and it means that the break in between 2B and 2C feels very short as we wound down with
Season 2B back in mid-February
.
I couldn't be happier! It will be so nice not to have to wait so long for new episodes, especially as Suzie & I have been fans of the show from the very first episode. I am curious that it's being called 2C though, as on
Wikipedia it's called Season 3
. But I'll take new episodes, regardless of what they are called!
Mark your paranormal calender for April 25, 2012 for the return of Fact or Faked: Paranormal Files on Space! And a big thank you Space for bring us the next season of Fact or Faked: Paranormal Files so quickly!
See
podcasts & posts discussing Fact or Faked: Paranormal Files here
.