Chi-Lan Lieu, Austin Porter, Bill Murphy, Devin Marble, Ben Hansen, Jael de Pardo
I think it's safe to say that one of our happiest discoveries here at
Hexed
this year was the awesome non-fiction show
Fact or Faked: Paranormal Files
, which follows a group of experts in various fields who investigate video & photos of possible paranormal activity and then attempt to re-create the footage. The shows combination of scientific method *and* belief in the paranormal easily won me over as a viewer.
Space
aired the show aired here in Canada throughout 2011 (Season 1 in winter and first half of Season 2 in the summer), and as of January 11, 2012 they will begin to air the second half of season 2 (aka 2B). I can't wait. Here are the official details from
the media release
:
"FACT OR FAKED: PARANORMAL FILES – Season 2B Premiere
Wednesday, Jan. 11 (2012) at 9 p.m. ET
Led by former FBI agent Ben Hansen, the paranormal investigation team returns with "UFO Crash Landing/Graveyard Ghost". In the season 2B premiere, one team goes to New Mexico to investigate a supposed UFO crash while the other travels to Nevada to look into stories of a graveyard ghost."
Hexed: Sisterhood of the Supernatural
has been on board with Fact or Faked: Paranormal Files from the very first time it aired up here in Canada and Shannon
literally stumbled upon it by accident late one night
channel surfing and finding it on
Space
. The combination of scientific method, paranormal discussions, photography, stunt work, travel and a spectacular cast make it one of these most fun shows out there. Suzie & I have talked about each and every episode that has aired up here so far, and here is a handy listing of those discussions from our archives:
Hexed: Sisterhood of the Supernatural on Fact or Faked:
Season 1 Discussions
Season 2A
Discussions
Wikipedia Page
for the show which has episode titles.
If you love
Fact or Faked: Paranormal Files,
be sure to check out
ParaAbNormal Radio
, a call in show with the cast the
Fact or Faked Fans Website
and
Facebook Page
, all run by the fabulously dedicated Christiane.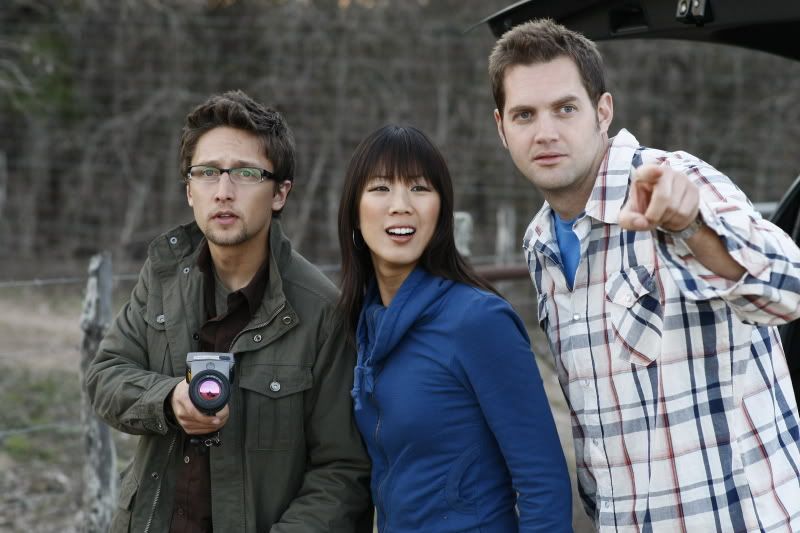 Devin Marble, Chi-Lan Lieu, Ben Hansen