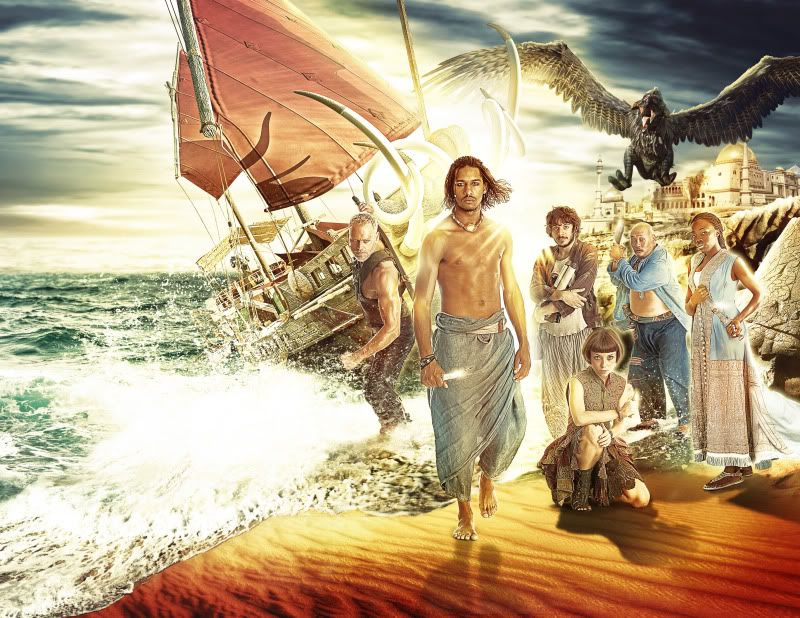 Image: Sinbad ~ The Crew (L-R) Elliot Cowan as Gunnar, Elliot Knight as Sinbad, Marama Corlett as Rina and Dimitri Leonidas as Anwar
We finally had a Premiere date for Sinbad! I'm so excited to check out this high seas adventure.
Sinbad Series Premiere
Sunday July 8, 2012 at 7pm ET on
Space

Series Description
: "Forget what you know about SINBAD. See the legend brought to life in this spectacular reinvention of the 8th Century tale. When SINBAD inadvertently kills a man and causes the death of his beloved brother, he is cursed and escapes to sea as a stowaway. SINBAD is an impetuous young man on a quest for redemption, condemned to keep searching for a way to lift the curse that chains him to the seas, until he can find the goodness in himself. But a terrible storm ensues, killing many on board the ship. The few survivors - sensitive young doctor Anwar, Viking warrior Gunnar, beautiful but aloof Nala, feisty street thief Rina, the calm, insightful Cook, and SINBAD - find themselves thrown together on a spellbinding voyage of discovery."
Will you be watching Sinbad? If so, remember to have your say and vote on our poll to the right and add it to the shows you are watching this summer. And of course, remember to check it out the
Sinbad Series Premiere
this Sunday July 8, 2012 at 7pm ET on
Space
.
Image: The Crew (L-R) Elliot Cowan as Gunnar, Marama Corlett as Rina, Dimitri Leonidas as Anwar and Elliot Knight as Sinbad