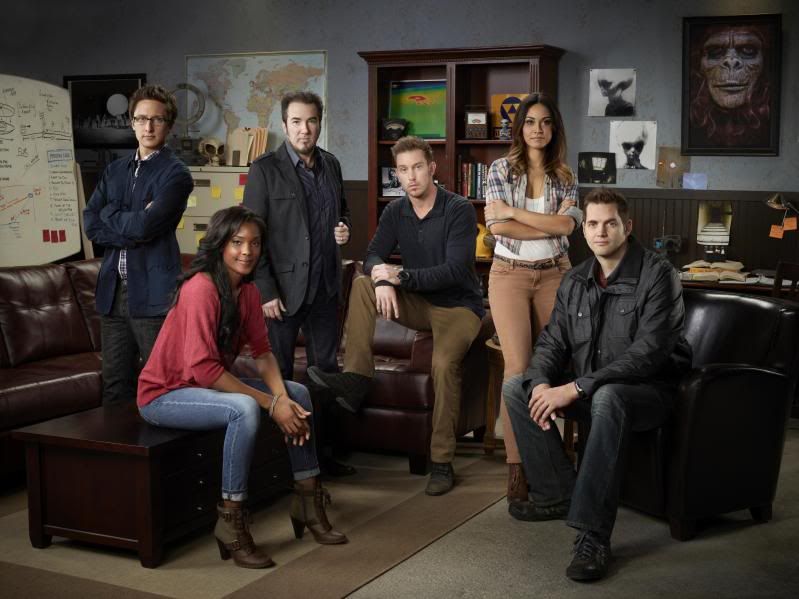 Image: Season 2C Fact or Faked Cast (from l-r) Devin Marble, Lanisha Cole, Bill Murphy, Ben Hansen, Jael De Pardo, Austin Porter
This has been one heck of an enjoyable season of Fact or Faked: Paranormal Files (I can't wait to talk to Suzie about the most recent eps!!!), and this amazing season comes to a close this week on Wednesday July 11, 2012 which makes it our
Paranormal Pick of the Week
:
Fact or Fact Paranormal Files Season Finale
*
Wednesday July 11, 2012 at 10pm EST on
Space
It's going to sad to see the season come to a close but they have entertained us with each and every episode and also expanded the audiences minds as well as take their own. A lot of compelling paranormal evidence has been captured and quite a few fakes have been found as well. I never know what they will come up and can't wait to see what the big finale will be. Suzie and I have talked about
each and every episode since Fact or Faked began
, so I can't wait for it's return on Wednesday!
Also Awesome this week:
Doctor Who Catch-Up Marathon

on Space continues this week with Season 2. On Sunday July 15, 2012 hang out to enjoy Season 2 with "The Time Lord (David Tennant), and his companion Rose Tyler (Billie Piper), continue on their adventures though time and space where they encounter a variety of new characters including Queen Victoria, an evil race of Cat Women, K9, Sarah Jane, and the dreaded Cybermen." The Doctor Who Sunday marathons will continue Sunday after Sunday all through July 2012, see more information on them here.
*Please note that in the US (on SyFy) this set of episodes is called Season 3 and here in Canada it's being called Season 2C. The US schedule is slightly ahead of us, but either way you phrase it the series has been totally exciting!