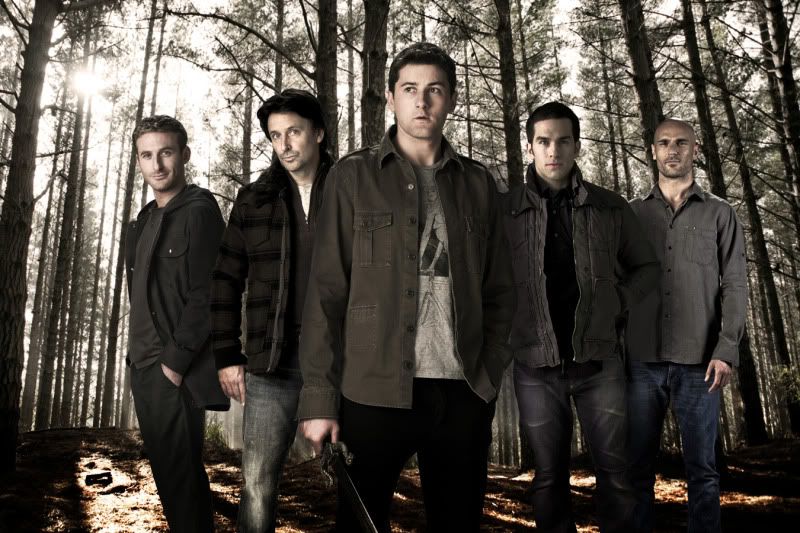 The Almighty Johnsons: 5 Boys (L-R) Anders (Dean O'Gorman), Mike (Tim Balme), Axl (Emmett Skilton), Ty (Jared Turner) and Olaf (Ben Barrington)

I'm excited to share we finally have a
confirmed date & time
for The Almighty Johnsons which will air on
Space
starting Monday July 23, 2012 at 9PM ET. I'm so curious about this New Zealand series with brothers that have powers of Norse Gods. I have to admit being a tiny bit worried from the trailer that it might slanted to anticipating having a mostly male audience, but I really hope it isn't because I want to love it. And it's starts on my birthday *and* the first episode is birthday-related, woohoo1
The Almighty Johnsons - Series Premiere
Monday, July 23 at 9 p.m. ET on
Space
Season 1, Episode 1: "It's Kind of a Birthday Present"
With The Almighty Johnsons being on Mondays at 9 and then followed by
Alphas
(also restarted July 23, 2012 with Season 2), it means monday nights are totally super powered & awesome. Here is more about the show and the series:
Episode Description
"It is Axl Johnson's 21st birthday – which explains the fire in the sky, the Waitemata Harbour being the colour of blood, the various women who seem to want to kill him and the sudden need for a family ceremony in a forest."
Series Description
: "The Johnsons are four ordinary Kiwi brothers who have inherited the powers of Norse Gods. But Norse Gods lived a long time ago, and over many generations, their powers have become diluted. So the Johnsons aren't like those flashy cartoon superheroes, they are typical Kiwi blokes who don't much like to stand out from the crowd. This is New Zealand after all, and if Godzone really had gods, and they walked among us, let's face it… you probably wouldn't even notice.
These everyday gods also have everyday struggles - striving to love stroppy women, overcoming sibling rivalry and fulfilling your God-like destiny, all while still finding the time to enjoy a few beers with your mates."