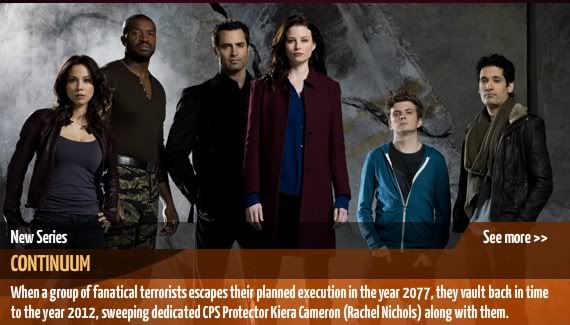 Image: Cast Picture for Continuum
Suzie & I have been enjoying the Canadian futuristic science fiction series
Continuum
immensely since it started just over a mouth ago, and if you are late to the game they have a mini-marathon of the first five episodes coming up this holiday weekend. That makes it the selection the
Paranormal Pick of the Week
:
Continuum Mini-Marathon Sunday July 1, 2012
Starting at 5PM EST/PST on
Showcase
Continuum Season 1 Episodes 1 - 5
This runs to and through the regular timeslot of the series, and means that we don't get a new episode this week but given that it's the Canada Day weekend I suspect many folk with be BBQing, Cottageing & such. Continuum returns with a new episode on Sunday July 7, 2012. See
all of our discussions about Continuum on Hexed here
.
Also Awesome This Week:

Bigfoot
starring Danny Bonaduce (The Partridge Family) and Barry Williams (The Brady Bunch) face off each other and the hunt of the legendary
Bigfoot
. The film is
described as
'When Bigfoot attacks an 80s themed music concert, a concert promoter and a hippie burnout will do anything to protect the "endangered species."'


Bigfoot
is a
SyFy Original Movie
by
The Asylum
and will air here in Canada on Saturday June 30, 2012 at 9pm ET on
Space
.