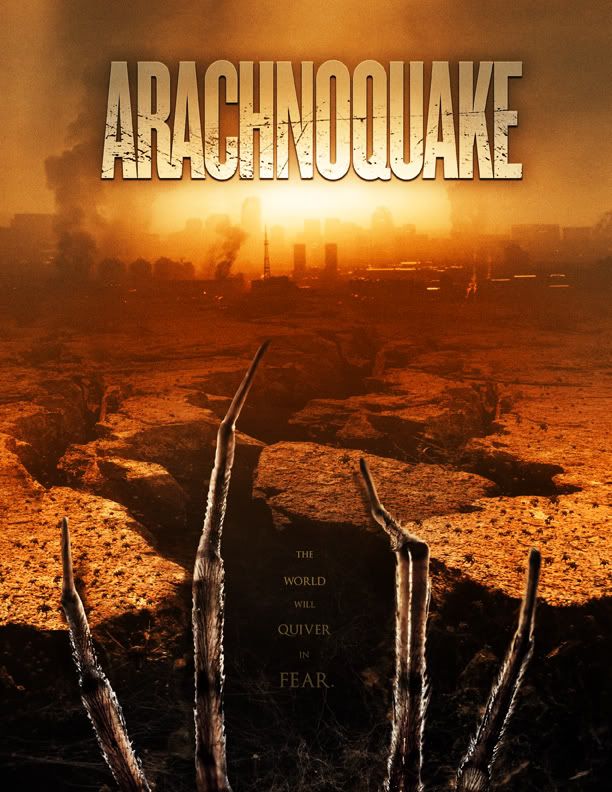 Looking for some film fun with giant spiders *and* disasters? I know I am! And what we are talking about is the aptly named
Arachnoquake
! The film is directed by Griff Furst (Swamp Shark, Wolvesbayne) stars Tracey Gold (Growing Pains), Edward Furlong (Terminator 2: Judgment Day), Bud Hall and Ethan Phillips (Neelix of Star Trek: Voyager) as they face "albino spiders that go on a murderous rampage through New Orleans after being released from their ancient subterranean prison by massive earthquakes." Man that's one heck of
a description
. It's got me that's for sure. Should we cheer for the imprisoned spiders? One way to find out is to watch! The craziness of the film makes it a shoe in for the
Paranormal Pick of the Week
:
Arachnoquake
Saturday June 23, 2012 at 9pm ET on
Space
Here is the
film synopsis
: "Another day in New Orleans at Lacross Adventures and Sightseeing turns into mayhem when an Earthquake opens fissures and golf-ball sized Albino spiders come crawling out from beneath the streets. Paul Lacrosse, his Dad Roy and his sister Petra are the only ones who realize that the Natural Shale Gas deposits that range from Louisiana all across the Southern U.S., have been exposed by the ongoing Earthquakes, and have released a fire-breathing long dormant species of spider-and these spiders are extremely aggressive. Now it's up to the Lacrosse family to pull out all of the stops, along with the National Guard, to find a weakness in this new breed of terror."
Arachnoquake Trailer
Also Awesome this Week: Camelot Re-Airing
It appears that
Camelot is re-airing from the beginning
starting this Tuesday June 19th, 2012 at 9PM EST on CBC with the very first episode! Shannon is pretty excited about this one as she was able to get all but the final episode of the series and felt totally let down to miss out on the very end. Suzie enjoyed it when it aired last year, so maybe in a few months we can actually talk about it! See
when we've discussed the series Camelot so far here
.