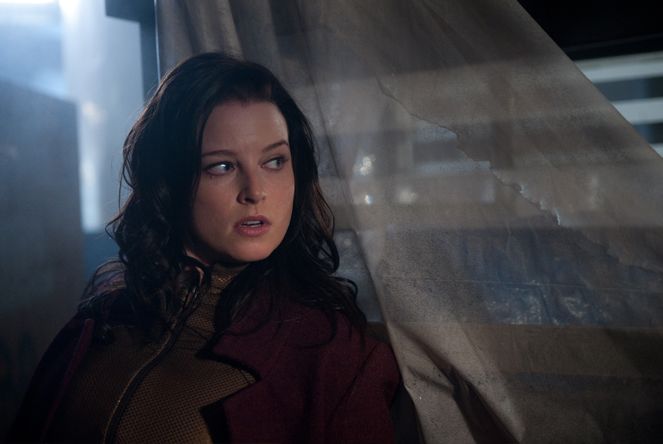 Rachel Nichols as Kiera Cameron in Continuum (
Image Source
)
That's right folks, it's time to share when the science fiction Vancouver-set (future and present!) series
Continuum
is coming back for Season 2: Sunday April 21, 2013 (9pm ET/PT) on
Showcase
.
It was just
recently announced
from Rachel Nichols herself in a video (see below) the start date of Continuum is just month when we will start the journey through the 13-episodes of Season 2.
Here is more about
Continuum and the Season 2 Premiere
: "Debuting to over 1 million viewers (2+)*, the first season of the critically acclaimed series saw Kiera Cameron (Nichols) searching for convicted terrorists from the future, known as Liber8, with the help of Vancouver detective, Carlos Fonnegra (Victor Webster; Castle). With unexpected assistance from teen tech genius Alec Sadler (Erik Knudsen; Scream 4), Kiera desperately tried to bring down the terrorists before they changed the course of history forever in the explosive finale.
In search for answers, the highly anticipated sophomore season continues Kiera's uneasy alliance with Detective Carlos Fonnegra, and sees her grapple with the big question that closed the first season – why was she sent there? While Alec struggles to understand the implications of the mysterious message he received from his future self, the Liber8 terrorists become more strategic and even more lethal as they seek to ward off what they see as the seeds of a disastrous future.
Rounding out the cast are Stephen Lobo (Smallville, Little Mosque On The Prairie), Roger Cross (Fringe, Arrow), Lexa Doig (V, Stargate SG-I), Omari Newton (Blue Mountain State, Sophie) and Luvia Petersen (The L Word)."
I'm really looking forward to the return of Continuum and Suzie & I really enjoyed season 1 when it aired last summer, and we podcasted through it's entire season. If you need to catch up on Season 1 you can watch all 10 episodes over at the shows website
Continuumtheseries.com
and at
Showcase.ca
, and as of March 26, 2013
Continuum will be released on DVD
and
BluRay
.