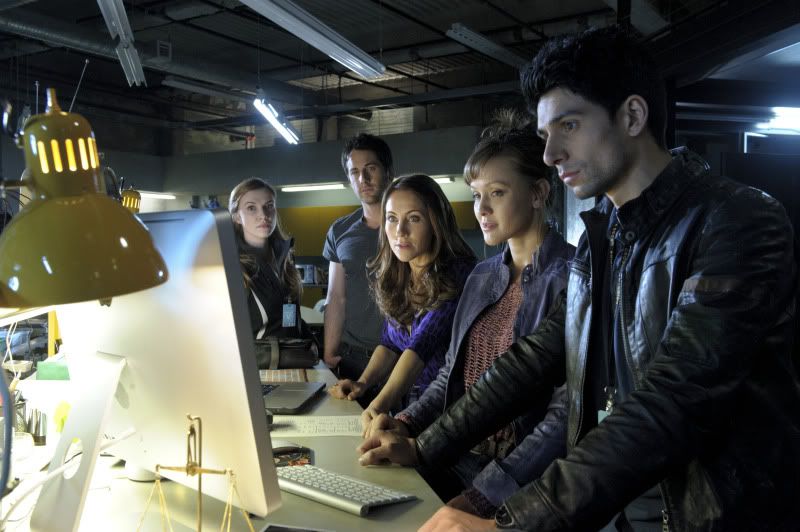 Image from Primeval: New World - Episode 1 The New World
(L-R) Dylan Weir (Sara Canning), Evan Cross (Niall Matter), Angelika Finch (Miranda Frigon), Toby Nance (Crystal Lowe), Mac Rendell (Danny Rahim)
We have a premiere date for the new series
Primeval: New World
, and it's just a month away. On
Monday October 29, 2012 Space will premiere Primeval: New World at 10pm EST/7pm PST
. The show has a 13 episode run and is a spin-off of the British show Primeval, but with New World set in Vancouver and stars Niall Matter (Eureka) and Sara Canning (Aunt Jenna from The Vampire Diaries). Primeval regular Andrew Lee Potts will guest stars as his character Connor Temple.
Although we've been keeping an eye on the show since
way back in February
, I'm pretty new to the Primeval world, and pretty much just know there are dinosaurs but I'm really excited to catch up with the original series. And if you want to catch up with series too, we'll have our chance as
Space is airing Primeval marathons on Sundays all throughout October
. Word is, you don't need to see the original show to enjoy the new one, but being a completist myself, I can't resist the challenge of going all in. The show also has a
new website to enjoy as well
. Fun times.
Here is more about Primeval: New World from the
media release
:
"Prehistoric creatures are about to invade Vancouver with the premiere of the highly-anticipated SPACE original series, PRIMEVAL: NEW WORLD. Sinking its teeth into SPACE's fall lineup beginning Monday, Oct. 29 at 10 p.m. ET, the series stars a flock of genre luminaries, including Niall Matter (EUREKA) and Sara Canning (VAMPIRE DIARIES). The North American spin-off follows a specialized team of animal experts and scientists who discover dinosaurs and other dangerous predators emerging onto the streets of modern-day Vancouver through anomalies in time, and features guest star Andrew Lee Potts as Connor Temple from the original U.K. series. Featuring over 70 visual effects shots in each of the 13 one-hour episodes, the monster of a series will also include 16 land, sea, sky, and sand creatures created by Atmosphere Visual Effects, supervised by Mark Savela (STARGATE UNIVERSE).
Leading up to the premiere, fans can fulfill their curiosity about the new series through the official, soon-to-launch, PRIMEVAL: NEW WORLD website featuring an episode guide, cast bios, behind the scenes content, and more. Users can also download high quality visual effects from the series and insert themselves into the dino-action via green screen. A mobile action game is also set to unleash before the premiere, and will take fans inside the series via their IOS devices, as they defend the streets of Vancouver from dinosaur attacks. Users can inhabit a team member and work to capture creatures and rescue civilians. Episodes of PRIMEVAL: NEW WORLD will also be available online at SPACEcast.com following their premiere.
In PRIMEVAL: NEW WORLD, while investigating temporal anomalies, a Special Projects Group battles prehistoric creatures. Led by Evan Cross (Matter), an enterprising inventor and visionary hero, the team is comprised of predator attack expert and specialist in animal behaviour Dylan Weir (Canning), security specialist Mac Rendell (Danny Rahim, EAST ENDERS), and physics prodigy Toby Nance (Crystal Lowe, SMALLVILLE). Ange Finch (Miranda Frigon, HEARTLAND), Evan's oldest friend and business partner, keeps things afloat while Evan and his group track the escapee dinosaurs, with the overeager help of Lieutenant Ken Leeds (Geoff Gustafson, Hot Tub Time Machine), head of the government's decommissioned department for investigating alien life and other mysteries. On board this season as directors are sci-fi queen Amanda Tapping (SANCTUARY), Andy Mikita (STARGATE UNIVERSE), Martin Wood (SANCTUARY), and Mike Rohl (SMALLVILLE). "
Will you be checking out
Primeval: New World
?