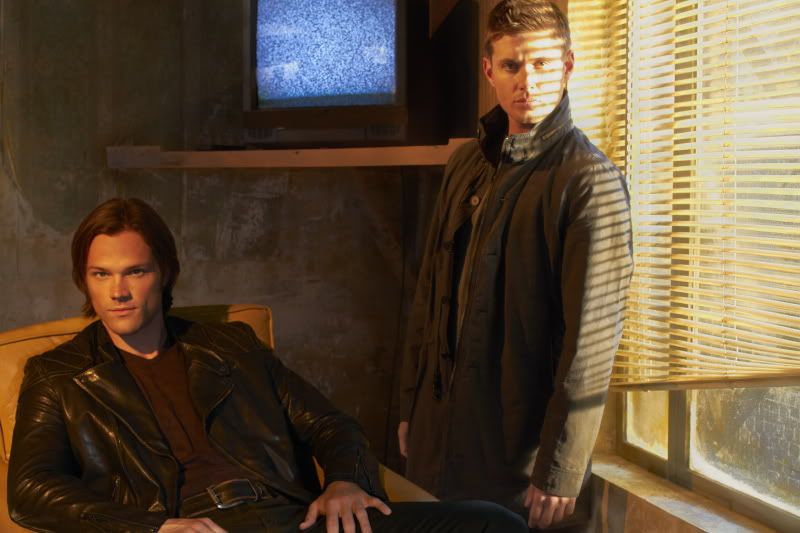 Image: Jared Padalecki as Sam Winchester and Jensen Ackles as Dean Winchester
Whose up for watching the Winchester brothers battle evil from the beginning? Or have you yet to jump on to the Supernatural train...er...Impala? Either way,
Space
is giving you the chance to see the series from the very beginning. I can't tell you how easy it was to share this awesome news and make Supernatural in Syndication the
Paranormal Pick of the Week
:
Supernatural in Syndication on Space
Starts Tuesday September 4, 2012; Monday to Friday at 8pm EST on
Space
I know we have a lot of fans of the TV series Supernatural out there, but if you've yet to take a ride through the series this is a great way to test the waters. I know I've attempted a summer re-watch of the series every summer (I'm behind and just finished Season 3), and it's a show that has some nice long-arc stories, character development and of course a healthy does of self-referential nods that make it extremely fun to re-watch. The show will be starting on Tuesday September 4, 2012 at 8pm EST with the very first episode aptly named 'Pilot'. If your prime time is full-up, they are also airing at 3PM & 1AM for the daytimers & nightowls out there (although be sure to
check your local listings
to confirm for air times).
Also Awesome This Week:
It's 'from the beginning' mayhem this week, and I'm thrilled to see that Star Trek: The Next Generation just happens to start from the very first episode Encounter at Farpoint in it's syndication cycle on Space on Tuesday September 4, 2012 at 4PM (repeating at 4AM). The schedule for the show appears to be Monday-Friday daily at 4PM & 4AM EST. I Although I'm intensely confident I've seen each and every episode of TNG, I think I'm going to give rewatching it a go. Who doesn't love the the ones of 'Bags of Mostly Water' or how Geordi can Make it Go! Or, the one where they run. Okay, the one where they run is stretching it a bit, but it's all in good fun. It's amazing to see a series over 7 seasons, and it's not often that you get it lined up nicely at episode 1. I'm looking forward to it.