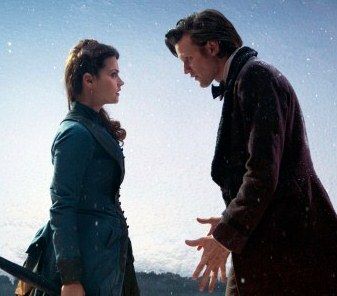 Doctor Who The Snowmen premieres Tuesday Dec 25 at 9pm ET
The holiday Doctor Who special tradition continues this year and not only is
Space
airing the new episode for us but also an
entire day with the Doctor
. Talk about one heck of a Christmas present and it also is our
Paranormal Pick of the Week
:
Christmas with the Doctor on Space:
4 p.m. – Back-to-back episodes of DOCTOR WHO (Season 7)
9 p.m. – DOCTOR WHO: THE SNOWMEN **new** (Encores Dec. 26 at 10:30 a.m.)
10:30 p.m. – DOCTOR WHO – Best of the Christmas Specials
11:30 p.m. – "The Christmas Invasion"
12:45 a.m. – "The Runaway Bride"
2:05 a.m. – "Voyage of the Damned"
3:40 a.m. – "The Next Doctor"
5 a.m. – "The End of Time" (Part 1)
6:20 a.m. – "The End of Time" (Part 2)
7:55 a.m. – "A Christmas Carol"
9:15 a.m. – "The Doctor, The Widow and The Wardrobe"
Also Awesome
TONS of Awesome in the
The 12 Days of Spacemas
including:
Sinbad marathon on Boxing Day Dec 26, 2012
The Almighty Johnsons Season 1 marathon on Dec 27, 2012 (which is all the more sweet as it was just announced we'll get Season 2 in 2013)
Primeval: New World marathon on Dec 28, 2012
Star Trek: The Next Generation Remastered Marathon on Dec 29 & 30, 2012
And even more awesome,
Slice
is airing several episodes of
Collection Intervention
on Wed Dec 26, 2012 in the afternoon. It's a really interesting (and respectful) show that tries to help people with collection issues, not only do you get to see rare items but the impact of when collections get out of hand. I really love the host, she really wants to help the collectors, which makes all the difference.
Have a Happy & Safe Holiday Everyone!