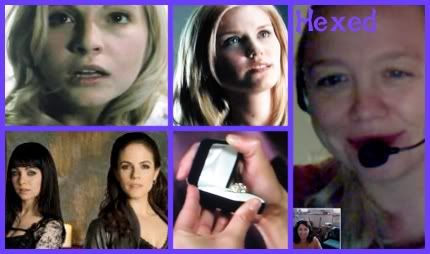 Although both Suzie & Shannon have both had crazy week (Mercury shadow is playing with us!), we still had time to catch up and chat on a weeks worth of paranormal TV! We chat about the second of season 2 of the Vampire Diaries, double bill and season finale of The Gates, the latest episodes of Haven & Lost Girl. These episodes that aired Sept 16 – 21, 2010.
Today is also the 1st day of autumn & therefore we are wishing you a happy Mabon! Tomorrow is the harvest moon. We'll be back next week with more supernatural TV talk on The Gates finale, and most recent episodes of Vampire Diaries, Haven and Lost Girl!
0:00 – 0:30 - Introduction
0:30 – 6:55 – News: Being Human on Space
6:55 – 24:30 – Vampire Diaries, Season 2 Episode 2 –Brave New World
24:30 – 45:50 – The Gates, Season 1 Episode 12 & 13 – Bad Moon Rising & Moving Day
45:50 – 1:04:45 - Haven, Episode 10 – The Hand Your Dealt
1:04:45 – 1:22:00– Lost Girl, Season 1 Episode 2 - Where There's A Will, There's A Fae
1:22:00 – 1:29:00 – General TVness
1:29:00 – 1:30:21 – Outro
Show Notes:
See the craziness of the car into the house at Shannon's here.
See Suzie's PEI Adventure here.
Contextualization of Vampire Diaries episode title Brave New World seems clearly to indicate Caroline's transformation, but for interest and clarification that the book Shannon mentioned was Brave New World by Aldous Huxley. "written in 1931 and published in 1932. Set in London of AD 2540 (632 A.F. in the book), the novel anticipates developments in reproductive technology and sleep-learning that combine to change society. The future society is an embodiment of the ideals that form the basis of futurism." (source)
Subscribe to Hexed!
Hexed: Sisterhood of the Supernatural
All Supernatural TV, All the Time.