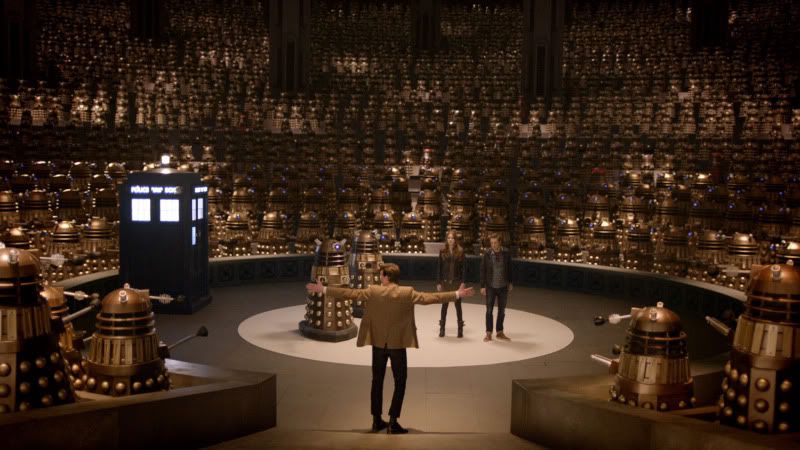 Image from Doctor Who Season 7, Episode 1: "Asylum of the Daleks"
MATT SMITH as The Doctor, KAREN GILLAN as Amy Pond and ARTHUR DARVILL as Rory Williams
Although I'd rather deny that sometime this week it will be September, I can't deny the awesomeness of the return of Doctor Who, which is airing here in Canada now on the same day as the UK. That makes it this weeks
Paranormal Pick of the Week
:
Doctor Who Season 7 Premiere
Saturday September 1, 2012 at 9pm EST on
Space
Here are some details from the
media release
on Season 7 (the spoiler-sensitive might want to divert their eyes): "In Season 7 of DOCTOR WHO, the Doctor, the Ponds, and a TARDIS-load of friends sign on for brand new escapades through space and time as they puzzle an unexpected invasion of Earth, save a spaceship full of dinosaurs and don Stetsons in a Wild West adventure. The explosive season concludes with Amy (Karen Gillan) and Rory's (Arthur Darvill) heart-breaking farewell - a race against time through the streets of Manhattan. Will the Doctor really lose the Ponds forever?
In the premiere episode of this season, "Asylum of the Daleks," the Doctor (Smith), has been kidnapped by his oldest foe and is forced on an impossible mission – to a place even the Daleks are too terrified to enter … the Asylum. A planetary prison confining the most terrifying and insane of their kind, the Doctor and the Ponds must find an escape route. With Amy (Gillan) and Rory's (Darvill) relationship in meltdown and an army of mad Daleks closing in, it's up to the Doctor to save their lives, as well as the Pond's marriage."
While I dropped off the Tardis train somewhere in season 6, I think I might have to hop back on and see how season, er series 7 shapes up for a ride.